Description
1964 Ford Mustang Front End Wall Shelf - Non-Working Lights
Size: 20.7" x 6.1" x 7.68"
Official Licensed Product
Looking for a great gift item for a car enthusiast or simply looking to decorate a man cave? These wall shelves are the perfect gift for fathers day, birthday, or Christmas. Perfect add on to anyone collection, man cave, or garage decoration. These wall shelves are made from poly resin creating intricate detail. Authentic, molded, color match and hand painted to automotive manufactures specification. As an added bonus, the glass shelves are tempered meaning it has been treated to increase its strength when compared to normal glasses. Located in the back are two recesses wall bracket allowing for an easy simple do it yourself install.
Official Licensed Product

Mounted using recesses wall bracket

Made from Poly-resin

Tempered Glass Shelves

Non-Working Lights
Molded and Hand Painted to Automotive Manufactures Specification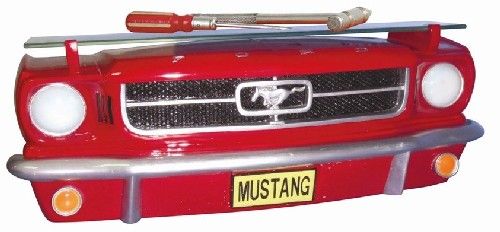 Items are shipped using
UPS Ground
. International shipping will take up to 5 weeks. Faster shipping method are available upon checkout for additional cost.